As California Western School of Law celebrates its 90th year, we pay tribute to its distinguished history and to all who have made it possible. Looking ahead to our centennial in 2024, and focusing on the challenge of educating and preparing lawyers for the future, we look beyond the bricks and mortar to recognize the real glue that holds the school together—the people of Cal Western.
Our school owes its legacy of access to the legal profession and social responsibility to the students, alumni, faculty, staff, and families who make up the California Western community, past and present.
During this time of celebration, we recognize and thank those who helped Cal Western get to where it is today, and ask for your continued support as we embark upon the next stage of growth.
This year we celebrate you. Thank you for being an essential part of Cal Western's first 90 years. We warmly invite you to participate in this noteworthy celebration throughout 2014!
Sincerely,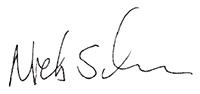 Dean Schaumann